Parkersburg and. . . Vicinity - West Virginia Ghosts and Hauntings including Silver Run Tunnel and directions to tunnel
The Blennerhassett Hotel
320 Market Street
Parkersburg, WVA 26101
39.264984, -81.561633
The Blennerhassett Hotel offers luxurious accommodations. . . along with a few friendly ghosts and even ghostly stay packages which include surrounding Parkersburg programs and events.
Ghosts at the hotel include a well-dressed older man in an old-fashioned, three-piece grey suit and children who play tag on the second floor.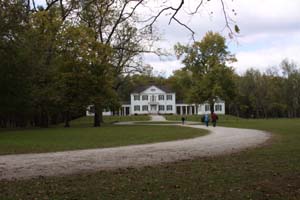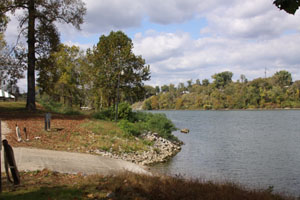 Boat to visit:
137 Juliana Street
Parkersburg WV 26101
(304) 420-4800
Harman and Margaret Blennerhassett purchased an island just outside Parkersburg in the middle of the Ohio River and built a mansion on it in 1798. The grounds were lavishly decorated with gardens. In 1806, the couple was believed to have been caught up in treasonous activities with Aaron Burr. Harman was jailed and released, but it left the family in financial ruin. The mansion burned in 1811 but in the 1980s, it was rebuilt as a tourist attraction on the island.
Margaret Blennerhassett is said to return to her beloved island nowadays as a ghostly figure who walks the shoreline. Some have seen her with a young daughter who died on the island.
The state park offers boat rides to the island seasonally along with carriage rides and tours of the home.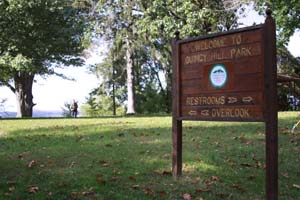 Quincy Park
1000 Quincy Street
Parkersburg, WVA  26101
39.267456, -81.552663
The park was once the site of one of the five Civil War hospitals found in Parkersburg. The hospital was little more than a tent encampment and held up to a 1000 wounded or sick soldiers when the hospitals in town were full to capacity. Ghostly civil war soldiers have been seen along the hill. Groans and moans are heard.
Fort Boreman Hill
Fort Boreman Drive
Parkersburg, WV 26101
39.260714, -81.568843
Built during the summer and fall of 1863, 136 Union soldiers were garrisoned here until the fall of 1865. Ghostly figures of soldiers have been seen walking the grounds.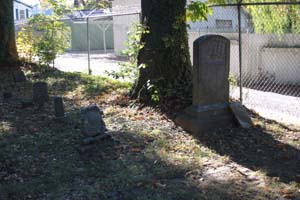 Riverview Cemetery
Captain Deming Grave
1341 Juliana Street
Parkersburg, WV 26101
Reports of a man in a dark overcoat leaning over the grave of sea captain George Deming have been reported.
Riverview Cemetery
Weeping Angel
1341 Juliana Street
Parkersburg, WV 26101
This angel is said to get up and walk around on moonless nights in the cemetery.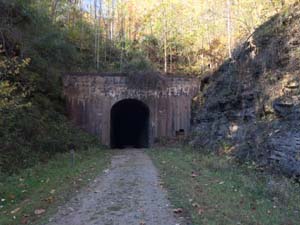 The Silver Run Tunnel (Tunnel 19)
Silver Run Road
Cairo, West Virginia
1,376 feet long tunnel haunted by a ghostly pale woman. Engineers in the late 1800s and early 1900s claimed to have seen the ghostly figure along the tracks at the tunnel. Legends say she was a bride making her way to her groom in Parkersburg before she was killed near the tunnel.
Directions:
Go into Cairo and then place this GPS code (39.20768, -81.19665) into GPS. Honestly, if you don't, you'll be on old roads best suited for ATVS. But the road in Cairo will lead out of town along two steel bridges and then a thin gravel road called Silver Run Road. The pull off is right here on the left on trail and has room for one car. Walk south (away from Cairo) along Rail For Trail about 10 minutes hike on gravel. NOTE: The State Park recommends that there is also a pull off in Cairo with a walk along the Rails For Trails path. It is a few miles to the tunnel, but a great hike. For directions from the Rail For Trail parking in Cairo:
Cairo Exit off U.S. 50 on to State Route 31 and go 4 miles to Cairo. State Route 31 crosses the trail and parking is available on the blacktop in town square, or on the gravel or by the old Bank at Cairo.
---