Crawford County Ohio Ghosts and Hauntings -
Dead Man's Hollow
---

Dead Man's Hollow
1601 Ohio 19
Bucyrus, OH 44820
40.762406,-82.875649

The ghost of 25 year old Daniel Bender who was attacked and murdered while traveling to find land with his brother-in-law in 1836 has been seen along the same route of his journey.
Daniel Bender (1811 - 1836) was traversing land in northern Ohio in October of 1836 with his brother-in-law who was looking for property. A pair of men alleged they would journey with the two for both company and protection in Bucyrus as they were going the same direction.
As the four men worked their way across the mucky ground outside of the now defunct town of Olentangy, Ohio the two new men to the group began to spar which could carry the heaviest walking stick. Upon snatching up bigger sticks with every stop, they paused at one point to walk single file across a creek. It was then, the two newcomers attacked 25 year old Daniel and his brother in law from behind with the walking sticks. Although his brother-in-law regained consciousness and was able to flag down help at a local sawmill, Daniel died. But his ghost has been seen walking near the area where he was killed. In fact, legend states a man was later trying to get his young daughter to a doctor in Bucyrus by carriage some time later. He was stopped by a man who stated she would not live to morning. She did not and he swore the man was Daniel Bender. Since then, other travelers along the same route have seen his ghost.
Huron Reflector October 25, 1836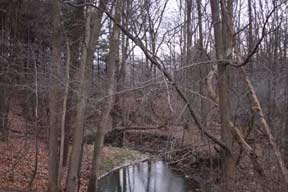 Dead Man's Hollow is believed to be between Heckert Park and Seccaium Park near what used to be the town of Olentangy, now gone.
---




View Crawford County, Ohio Ghosts - Galion, Ohio Bucyrus Ohio in a larger map