Hocking County Ohio Ghosts and Hauntings
---

Ash Cave Hiking Trail
State Route 56
South Bloomingville, OH 43152
39.396093,-82.545969
Ash Cave at Hocking Hills State Park -A ghostly lady walks the trail at Ash Cave dressed in the clothing of the 1920s and 1930s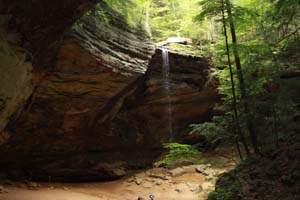 Old Man's Cave Upper Trail
19852 St Route 664 South
Logan, OH 43138
39.434668,-82.541571
Richard Roe, who once lived near Lower Falls of Old Man's Cave has been greeting visitors in the park with his dogs for over a hundred years. His dogs have been heard baying in the night deep in the bowels of Old Man's Cave.
Rockhouse Hotel
State Route 374
Laurelville, OH 43135
39.496623,-82.621307
In the 1800s, Rockhouse Hotel was located where the shelter house is now. The spirit of a young woman named Mary who was found dead in her room roams the area.
Conkle's Hollow State
Nature Preserve
24132 Big Pine Road
Rockbridge, OH 43149
39.453492, -82.572727
Conkle's is in Hocking Hills State Park. Native Americans once living in the area would rob settlers traveling through the area and hide their loot in the caves and hollows that are now along the trail. Several of the thieves were caught, but not before they could hide their treasure in Conkle's Hollow. They were hanged in a hollow and to this day, it is said you can see their shadows roaming up and down the trails.
Old Logan Cemetery
N. Mulberry Street
Logan, OH 43138
39.543946,-82.407138
Old Logan Cemetery is haunted by a girl in white.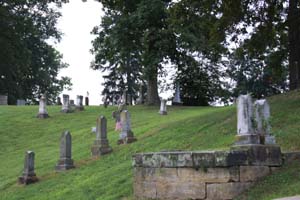 Scotts Creek Falls
13843 State Route 93
Logan, OH 43138
39.531502, -82.420571
In August of 1887 while driving a load of wheat to Logan, newlyweds 19 year-old Clara and 29 year-old Johannes Bensenhafer began to cross Scotts Creek, only to have their wagon slip into what is known as the "Death Hole", a 15 foot pool with undertow. Tragically, they both drowned. After, people swore they heard the sound of ghostly chatter of the couple along Scotts Creek Road and the creek itself. Then, they would hear the horses screaming in the area and saw a woman walking by the water.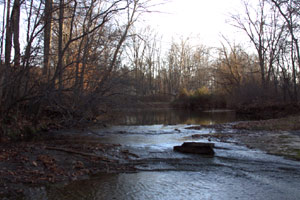 ---

View Hocking County, Ohio Ghosts in a larger map