Gallia County Ohio Ghosts and Hauntings
---

Chimney Rock
Along Symmes Creek Trail - Wayne National Forest
38.81497, -82.45428
Symmes Creek Road
Patriot, OHio
A woman's screams can be heard from Symmes Creek Road, a victim of a fall from Chimney Rock.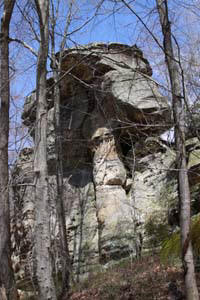 Our House Museum
432 1st Avenue
Gallipolis, Ohio
38.810821, -82.2052
Henry Cushing built a tavern near the river in Gallipolis. His ghost haunts the building that is now a museum.
Tyn Rhos Cemetery
Tyn Rhos Road
Thurman, Ohio  45685
38.853612,-82.412996
Visitors to the graveyard have seen lights and orbs wavering above the graves. (As always, please respect those around the cemetery and follow all regulations listed including the hours it is open!)
---

View Gallia County Ghosts and Hauntings in a larger map