Gallia County Ohio Ghosts and Hauntings -Chimney Rock
---

Chimney Rock
Along Symmes Creek Trail - Wayne National Forest
38.81497, -82.45428
Symmes Creek Road
Patriot, OHio
A woman's screams can be heard from Symmes Creek Road, a victim of a fall from Chimney Rock.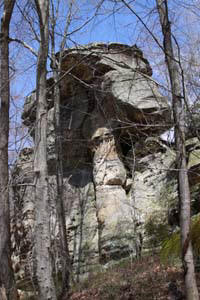 Symmes Creek Road
Wayne National Forest, Patriot, OH 45658
(there is a small pullover with gravel past the bridge. The trail is marked near the opposite side of the bridge with orange trail markers. It is a short, 1/2 mile walk but average to difficult terrain up and down hillsides.
The trail is marked in orange. Stick to the trails, veering toward the trails leading left each time. Or you can drive about 1.3 miles down the road (38.81885,-82.464227) and start at the Symmes Creek Trailhead 17 and walk to the landmark too. There is a small parking area for about two cars there.) This is definitely not an area to go into after dark because of cliffs!
Before it was used for rock climbing and hiking, Chimney Rock had a unique history dating back to the early 1800s. In 1811, the Shelton family which included Claiborn and his wife Saluda and nine children, were making their way through Ohio heading
westward from Virginia in search of land utilizing land grants from the Indian Wars. Forty year old Saluda became ill and the family stopped along Symmes Creek and found shelter at Chimney Rock where they used the small cave for refuge. Saluda died there and although some of the family remained in the area, her husband and seven of the children moved westward.
It is sometime after that Chimney Rock became a landmark for those visiting the area. A woman standing along the dangerous edge of the top of the chimney was said to have fallen to her death. Her screams, since, have been heard echoing along Symmes Creek Road.
---

View Gallia County Ghosts and Hauntings in a larger map