Warren County Ohio Ghosts and Hauntings
---

Old McClung Home
101 E Main Street
Mason, OH 45040
39.360199,-84.308943


On April 12, 1901, 61 year old recluse Rebecca McClung was found beaten to death in her bedroom at 101 E Main Street. Although her husband was arrested for the murder, he was acquitted. Her murderer was never brought to justice and her ghost has been seen peering out of the upper windows where she once peeked between the curtains watching those in Mason, Ohio go about their daily lives.
The Golden Lamb Inn/Restaurant
27 S Broadway Street
Lebanon, OH 45036
39.43384,-84.208817
The inn originated in 1801 and many have passed through its doors to stay the night. Some never leave. At least three ghosts are said to roam the building -
*A little girl, Elizabeth Clay, who stopped at the inn and died of typhoid fever in 1825.
*Sarah Kilpatrick - lived in the inn when she was young, but her ghostly young self is said to play tricks on staff.
*Lawyer, Clement Laird Vallandigham who accidently shot himself in a room while attempting to reenact a shooting for display in a court hearing.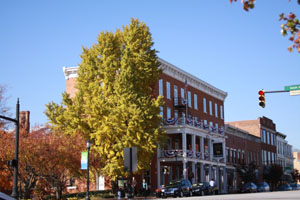 Old Peters Cartridge Factory
1915 Grandin Road
Kings Mills, OH 45034
39.351448,-84.241578

On July 15th, 1890 at 3:50 p.m., a train car collided with two load cars filled with 800 kegs of gunpowder along the Little Miami Railroad. People as far as six miles away in Lebanon heard the explosion. In a chain reaction, 800 more kegs exploded. When it was all said and done, 12 had died. The ghosts of those who died are said to linger along the road and in the buildings in misty forms and full-bodied apparitions.
115 S. 4th Street,
Waynesville, Ohio 45068
39.531233,-84.090179
The 1905 Friends Boarding Home was built by Quakers as a home for retired Quakers. Young teachers also lived in the home. It had indoor plumbing and electricity even at an early time. For $3.50 a week, boarders received room and board, meals and laundry. The building accommodated over 20 boarders and offered a dining area. The building is haunted by a young child who has been heard giggling and running through the rooms. She also rocks chairs and is attached to one of the dolls kept in the museum. The museum also offers ghost tours of Waynesville: 513.897.1607
Hammel House Inn and Restaurant in Waynesville
121 S Main St
Waynesville, OH 45068
39.529541,-84.087426
A ghostly mist slips from Room 4 and down to the dining room, believed to be a salesman who disappeared mysteriously in the 1800s.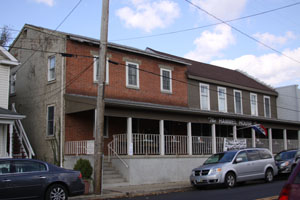 Gift Shops on South Main in Waynesville

Main St
Waynesville, OH 45068
<![if !supportLineBreakNewLine]>
<![endif]> On August 26, 1879, the bodies of two woman and a little girl were found dead in a home on S Main where a gift shop now resides. Although the old home is gone, the ghost of the little girl has been seen roaming the property along with the two women murdered with her.
The old Angel of the Garden Tea Room building
71 N. Main St.
Waynesville, Ohio
39.531684,-84.085475
A man has been seen looking from the upstairs windows.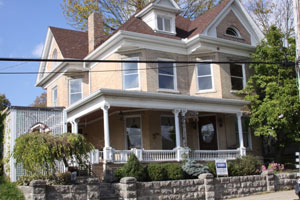 234 S Main
Waynesville, Ohio
39.528209,-84.087943
The house was originally the home of John Stetson's sister Louisa (Stetson) Larrick who died there in 1879 of TB. It was also used by a school teacher in the 1900s. The ghost of a dark haired woman has been seen around the building and it is assumed to be one of the two women.
Glendower Historic Mansion
105 Cincinnati Avenue
Lebanon, Ohio 45036
The Glendower has just recently been getting in touch with its ghostly side via a private company providing tours for a fee. Ghostly whispers and shadow figures are said to be seen in this 1840s home.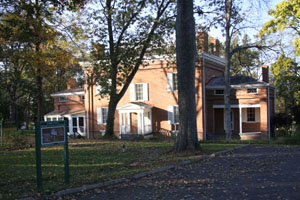 Dog Street Cemetery
—Kings Island
Kings Island Drive
Maineville, OH 45039
39.350226,-84.267793

The cemetery and grounds of Kings Island are said to be haunted by a little girl. Many believe it is Missouri Jane Galeenor (age 5) who was buried in the cemetery in 1846.
---

View Warren County, Ohio Ghosts and Hauntings in a larger map