Warren County Ohio Ghosts and Hauntings - The Golden Lamb Inn/Restaurant in Lebanon
---

The Golden Lamb Inn/Restaurant
27 S Broadway Street
Lebanon, OH 45036
39.43384,-84.208817
The inn originated in 1801 and many have passed through its doors to stay the night. Some never leave. At least three ghosts are said to roam the building -
*A little girl, Elizabeth Clay, who stopped at the inn and died of typhoid fever in 1825.
*Sarah Kilpatrick - lived in the inn when she was young, but her ghostly young self is said to play tricks on staff.
*Lawyer, Clement Laird Vallandigham who accidently shot himself in a room while attempting to reenact a shooting for display in a court hearing.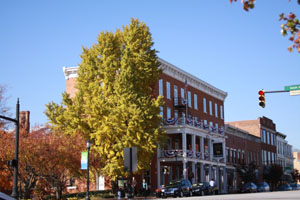 ---

View Warren County, Ohio Ghosts and Hauntings in a larger map