Hocking County Ohio Ghosts and Hauntings - Ash Cave
---

Ash Cave Hiking Trail
State Route 56
South Bloomingville, OH 43152
39.396093,-82.545969
Ash Cave at Hocking Hills State Park -A ghostly lady walks the trail at Ash Cave dressed in the clothing of the 1920s and 1930s. Tiny lights dance along the trail.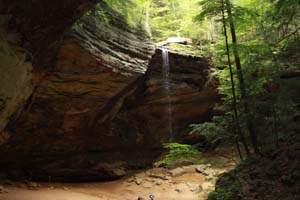 Haunted Ohio's Ash Cave. . .Ash Cave is well known for its beautiful cascading waterfall, winding trail and spacious recess cave. In fact, it is one of Hocking Hills State Park's most visited areas. But most who hike the hemlock-lined trail are so mesmerized by the scenery, they do not know that perhaps the goosebumps rising along the back of their neck may not just be the reaction to the awesome surroundings. Maybe, just maybe it might be something more. Perhaps it is just an innate warning, some sixth sense telling them they are being watched. . .
A recent hiking expedition in the evening hours left a group rather unnerved. According to witnesses, a shadowy apparition followed the entire group along the trail. The shadow that appeared to look like a woman dressed in 1920's attire peered around the trunk of a tree close enough to give two hikers a good start! When one witness brought it to the attention of the rest of the group, the apparition disappeared.
There have also been eyewitnesses to attest they see a tiny shadowy hand creeping out from the first bridge while they crossed.
So who is this lady ghost who haunts the trail? It seems to be a mystery. There have been deaths from falls in the area, but none fit the description of our secretive spirit. Right now, her identity remains a secret only she knows.
Updates: It has been noted that on about 1 out of 4 night hikes (night hikes include lantern tours, history hikes and other natural history hikes provided in the evening which do not talk about the paranormal), someone walking the trail with the group witnesses the apparition.
---

View Hocking County, Ohio Ghosts in a larger map