Hocking County Ohio Ghosts and Hauntings - Hidden Falls at Scotts Creek
---

Scotts Creek Falls
13843 State Route 93
Logan, OH 43138
39.531502, -82.420571

In August of 1887 while driving a load of wheat to Logan, newlyweds 19 year-old Clara and 29 year-old Johannes Bensenhafer began to cross Scotts Creek, only to have their wagon slip into what is known as the "Death Hole", a 15 foot pool with undertow. Tragically, they both drowned. After, people swore they heard the sound of ghostly chatter of the couple along Scotts Creek Road and the creek itself. Then, they would hear the horses screaming in the area and saw a woman walking by the water.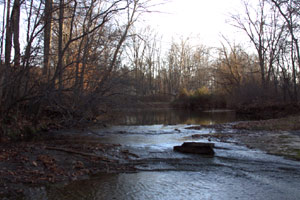 Ghost Picture with images of a woman and a man appearing to carry another on his shoulders from the creek. There is a ghostly horse to the right.
---

View Hocking County, Ohio Ghosts in a larger map