Muskingum County Ohio Ghosts and Hauntings - Prospect Place
---

Prospect Place
12150 Main Street,
Trinway, OH 43842
40.134857,-82.012063
In this house, that can be rented for ghost hunting, people have seen full body apparitions, heard footsteps and more. At least three ghosts are said to haunt the home.
In this 29 room mansion, that can be rented for ghost hunting, people have seen full body apparitions, heard footsteps and voices. Proceeds for the hunts are used to restore the building and grounds.

There is a 19th century mansion tucked into a rural section of Muskingum County in Ohio. It is brick and boasts 29 rooms, a dance hall, library and an observatory on top where you can see the rugged southeastern Ohio hills by day and by night, a million stars in the sky. Its walls harbored a large family and their servants along with escaped slaves in the 1800s.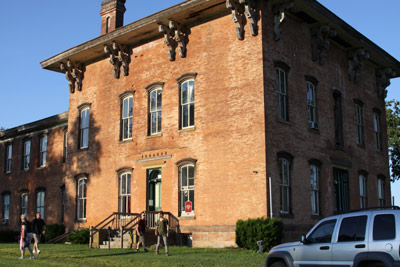 It is said after a train wreck in 1912, the owner opened her doors to the dead to be used as a morgue. During the 1900s, the heirs of the family lay claim to it along with tenant farmers. People lived and died in its grasp since 1856. Now legends about it have cropped up over time, some real and some perhaps not so real. But there is as fine a line between the natural world and the supernatural world as there is between legend and what really happened.
Now the ghosts of Prospect Place's past walk the hallways that are nearly stripped of its once-elaborate decor. You can walk around the home, too, dig out your ghost hunting gear and, for a small fee, sample some of the flavor of the past. You can search for the spirits not quite laid to rest and ponder the difference between what people said happened and what really did happen.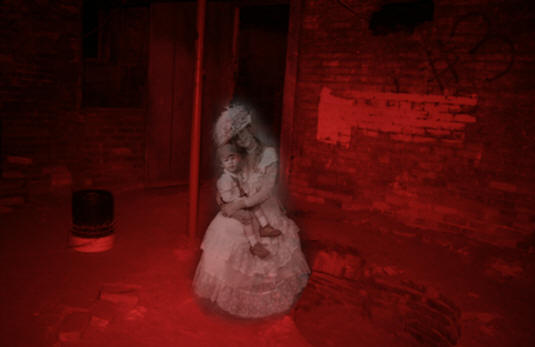 Ghostly apparitions have been seen and photographed in the home. Although this is not an actual image, it depicts images people have described. Our ghost team even got an EVP of a child wailing and then asking for his mama.
Listen to the child crying.
Local Legends and Ghost Stories:
1) The Bounty Hunter- The house is said to be haunted by the spirit of a bounty hunter searching for slaves who may have been hidden at the Adams' home. Exasperated servants at the home were said to have caught up with the bounty hunter and hanged him in the loft of the barn on the property. His body was buried in an unmarked grave. A dark figure has been seen in the barn area and visitors have received a light touch.
2) Girl on the Balcony- the ghost of a servant girl who fell from the front portico balcony is said to haunt the building. She was allegedly so ill, she wandered on to the balcony and fell off the edge. She has been seen where the balcony once stood and also at the stairway.
3) Wandering Ghost of Anna Adams-Cox Born 1847 Died at Bethesda Hospital in 1924 - Eldest daughter of George, who died of pneumonia in her seventies is said to wander the hallways.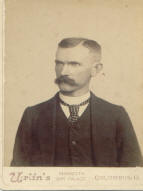 4) William Cox, Jr - Anna Adams-Cox's husband who vanished and was later seen in California. He was thought to have died in the earthquakes there, but his ghost returns to amend his mistake of leaving Anna. Perhaps he is. We got an EVP of a man calling for Anna. . .
Listen to the EVP of a man calling for Anna
5) Escaped Slave who died in the home is said to wander the basement. Some have felt a sadness in the cellar.
6) Children have been photographed and their cries and laughter taped.
Here is someone calling for the children
7) Ghosts of those brought to the mansion after the train wreck are said to walk the cellar where their bodies were kept the cold December night.
8) Ghost of Constance Cox is said to walk the rooms. You can hear her labored breathing.
Click here to listen to what we heard!
9) Perhaps the ghost of George Willison Adams haunts the building. We got this very clear voice calling for Mary who was his second wife. He also had a daughter by this name.
Hear someone calling Mary.
A little background:
In 1856, the original Prospect Place was built by George Willison Adams (1799-1879) who had prospered from ventures in milling, storekeeping, trading along the canal, and farming. He held huge amounts of land in and around Dresden and was known to give back heartily to the community including donating property for a church.
The house Adams built had 23 rooms and even included bathrooms. But just as the family was about to move into the new home, it was burned to the ground. A bricklayer who had worked on the home, George Blackburn, was said to confess to the fire stating he was trying to make more work. Undaunted, the house was rebuilt by 1856.
Mary Adams - George's second wife.
Photos Of George W. Adams courtesy: G.W. Adams Center.
George Willison Adams' father wrestled with the belief in slavery until he moved his family from Virginia to the anti-slavery state of Ohio in 1808. He sold his land and released his slaves. He passed on his high moral values to his sons who continued to help free slaves through the underground railroad. When traveling through the southern states to trade, they would hide runaway slaves in the decks of the boats to help them escape.
Below is a family photo from the 1890s courtesy of the G.W. Adams Center-
Top row from left: George Cox, William Cox, Jr., Unknown child, Anna Adams-Cox and Unknown child.
Second Row from left: Unknown woman, Mrs. William Cox, Sr., Mary J. Robinson-Adams, Unknown woman.
Bottom Row: Sophia Adams, Unknown woman.
John J. Adams was born at Prospect. When he died, the home fell into the hands of his sister, Anna (Adams) Cox and her husband, William. It eventually was owned by their heirs, George Cox and finally, Eugene Cox, who mined the land around the estate for gravel. It is at this time the home was vandalized and fell into disrepair. For a short time, the estate was owned by Dave Longaberger who began plans to restore the building. It was eventually sold back to the Adams family who have started a foundation, G. W. Adams Education Center, Inc., to restore the building.
Those who have lived in the house include:
Original Owners - 1850s through early 1900s.
George Willison Adams (born 1799)
Mary J R Adams (born 1833 second wife)
Anna Turner Adams (born about 1847)
Mary (born about 1849)
Lizzie (Elizabeth) (born about 1851)
Sophia Adams (born about 1857)
John J (born about 1860)
Charles W. (born about 1863)
Jesse (born about 1865 )
James (born about 1859)
1940s
Mr. and Mrs. Charles D. Kain Dorothy, Russell and Freddie; the twins; Walter and Eleanor.
Those who are believed to have died in the house:
Constance Cox - September 22, 1898 adopted daughter of Anna Adams Cox and William Cox - Lung Disease - TB - Consumption
George Willison Adams - August 31, 1879 Died of brain fever, meningitis.
Those who were brought to the house after death:
After a train wreck, the home was allegedly opened as a storage area for the bodies until they could be picked up by family in 1912.
---

View Haunted Ohio- Muskingum County Ghosts and Hauntings in a larger map