Wayne County Ohio Ghosts and Hauntings - Rogues Hollow
---

Chidester Mill
Rogues Hollow
117514 Galehouse Road
Doylestown, Ohio 44230
40.941365,-81.67536
Visit chippewarogueshollow.org for hours of operation and info!
The ghost of a young man haunted the woolen, sawmill and dye House building once located where the museum now stands. He fell into a wheel and was crushed to death. He was seen in spirited form returning during the evening hours to finish the work he was never able to complete in life.
Fraze and Clinton Roads and Vicinity
Rogues Hollow
Back in the 1800s, it was a mining town. Now fields and subdivisions cover the area around Rogues Hollow where men once eked out a meager living mining. The ghosts of miners who worked in more than five mines around Rogues Hollow have been seen along the roadways there.
The Ghost of the Headless Horse at
the Ghost Oak Tree
Rogues Hollow

There was once an old Oak Tree along Clinton Road with limbs hanging down to the dirt path. One night, a horse was galloping along the roadway and did not see the limb. His head was cut clean from the body. His ghost beneath the tree was seen many times by those traveling to Doylestown. Once, a story was told that young men saw the devil, himself, with red eyes seated upon the horse.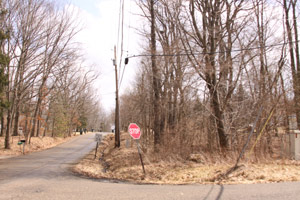 Twin Ghosts
Rogues Hollow

A pair of matching ghosts were seen along Clinton Road gliding above the ground.
Crybaby Bridge
40.941071,-81.67521
Rogues Hollow
Near the mill and spanning Silver Creek is Wayne County's notorious Crybaby Bridge. The story goes that a young woman was spurned by her sweetheart when he found out she was pregnant. When the child was born, she tossed it into the cold waters. If you stand on the bridge, you can hear the child's wails. And you might even see the
mournful mama. She stands along the edge, staring into the water, forever lamenting her awful feat.

citations: Rogues Hollow History and Legends
by Russell Frey
---

View Wayne County Ohio Ghosts in a larger map