Ashtabula County Ghosts and Hauntings - Ashtabula Train Disaster
---
Ashtabula Train Disaster Site
Cedarquist Park
Harmon Hill Road
Ashtabula, Ohio 44004
Park: 41.875201,-80.782753
Site:41.878333,-80.789577
On December 29, 1876, the Pacific Express, No. 5 of the
Lake Shore and Michigan Southern Railway was moving westward across the tracks toward the Ashtabula Bridge with 159 passengers and crew. The frigid temperatures and the weight of the train caused too much stress on the poorly built structure. Just as the lead engine cleared the west bank, the bridge collapsed leaving the rest of the train to plunge into the river and bank below. It was a 70 foot fall into the frozen river. Some railcars smashed into others as they fell, while other cars were quickly crushed by cars landing on top of them. When the train hit the bottom, oil lamps and coal heating stoves in the railcars ignited and the cars burst into flames. Of the 159 passengers and crew on board the Pacific Express No. 5, 64 were injured and 98 were killed. Forty-eight of those who died were unidentifiable.
Sometimes, the cries of those who perished there, those caught in the wreckage and consumed by the fire are heard above the sound of the river. Tiny lights have been seen hovering below the new bridge where the old once stood.
Depiction of the Ashtabula Train Disaster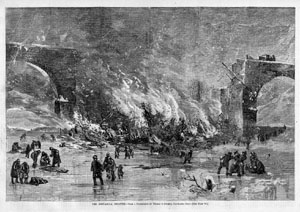 The new Bridge Now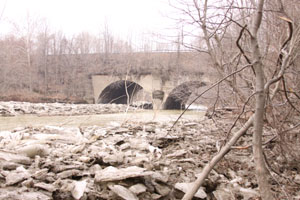 The new Bridge Now

The bridge is accessible through a trail at the far end of Cedarquist Park. 41.875201,-80.782753



Park in the small lot and walk the roadway past the gates on the left side of the field.




You will see a trail along a dirt road that Y's. Take the trail to the left that follows along the river. It is marked by arrows.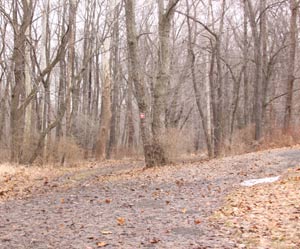 ---

View Ashtabula, Ohio Ghosts and Hauntings - Ashtabula Train Wreck in a larger map;