Belmont County Ohio Ghosts and Hauntings -
Lady Bend Hill
---

Lady Bend Hill
Egypt North Rd on to I-70 Bethesda, OH 43719
40.059327,-81.119883


Before it was called the The National Road and before Interstate 70 intersected this section of Route 40, the roadway was called Zane Trace. It was a path many settlers followed through Ohio and they all had to traverse a hill with a sharp curve at the bottom.
If that wasn't enough to give drivers along the Old National Road something to make their hair stand on end, there was a ghostly story attached to the hill and bend. An old legend tells that a young woman from Wheeling was riding her horse pell-mell down the road after a quarrel with her family. Some say it was over the love of a Guernsey County boy just across the state line who was of humbler means. Regardless, it was during a thunderstorm and along a treacherous hill outside Morristown when one bolt of lightening lit up the sky and spooked the horse. The woman fell and was dragged by the horse to her death. It was said when they found her, she was so mutilated, her head was detached from her body. The dangerous section became deemed: Lady Bend Hill. To this day, drivers along both Old National Road and I-70 at this section are frightened by a ghostly apparition of the woman riding beside them in their cars, searching for her head.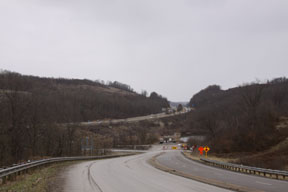 Lady Bend Hill where it now stops short of the highway.
Lady Bend Hill looking upward
---