Coshocton County Ohio Ghosts and Hauntings - The Graves of Mary Stockum
---

The Graves of Mary Stockum
St. John's Lutheran Church Cemetery
AKA: Stockum Cemetery
County Road 123A
Coshocton, Ohio 43812
40.210267,-81.779429
There is a tale told by word of mouth passed down from generation to the next of a crazy witch by the name of Mary Stockum. There are several variations of the story, but one of the most popular ones is. . .
You see, Mary had nine children. One of them was mentally handicapped and one day, her husband decided to kill the child and so he did. He was caught, convicted and hanged for his crime. In retaliation for the hanging, Mary began killing off her children one by one. After the fifth one died, she too, was brought to justice. Mary was burned at the stake and buried in the cemetery. Still, the remaining children she had not killed did not get better. One by one, the they began to die. Fearing the worst, the townspeople dug up Mary, as was common practice to block a witch's curse after death. They severed her head from her body. They buried her head outside the cemetery gates and her body witin. Then they plopped a gravestone on each. Now, she returns to find her head, wandering the cemetery in ghostly form.
True or not?
Regardless, hundreds of Coshocton teens grew up hearing the story, have visited the isolated site. And yes, some have seen a ghost there.
You may need to park near the intersection of County Road 123 (on right) and 123A (left)— (40.209008,-81.785404).
Take 123A to the left, walking the .4 mile back to the cemetery along the old roadway. The road curves, but it is a straight walk to the cemetery, which is on the right (40.210353,-81.779499) and within sight of the roadway. Not a suggested walk at night as there are cliffs and hazardous areas! The road, as you can see, is rutted and muddy.
Really detailed directions and warnings about the area here: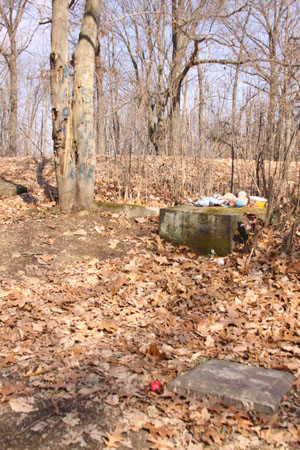 Stones at Mary's Grave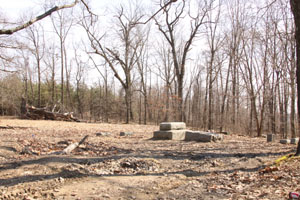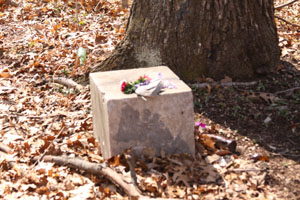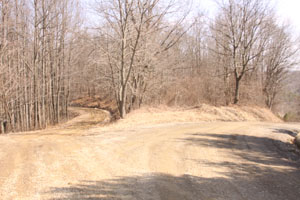 County Road 123 (on right) and 123A (left)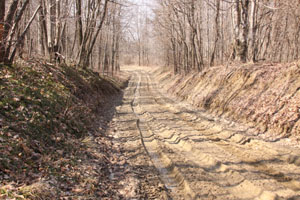 The road to the cemetery.
---

View Coshocton County, Ohio Ghosts in a larger map