Scioto County Ohio Ghosts and Hauntings - Dead Man Hollow
---
Shawnee State Forest
Portsmouth, Ohio 45662

Years ago, when Civilian Conservation workers began building a road deep within Shawnee State Forest and one particular hollow that always seemed deeper, darker, and more mysterious than the rest, old-timers shook their heads in disbelief. They knew no good could come of it. The path they followed was a place locals avoided after sunset reporting ghostly screams, whistling, and strange noises. Their suspicions were not misguided, as workers soon discovered skeletal remains near a bridge. The place, thereafter, where this lone grave lies, was called Dead Man Hollow. And a ghost still haunts the spot that many believe was a peddler who disappeared while traveling from one town to the next.
During ghost hunt at the gravesite and in the area.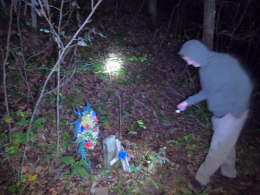 It's a nice leisurely walk to the grave from the pull-off.
The grave with markings.